Ain't Karma a Bitch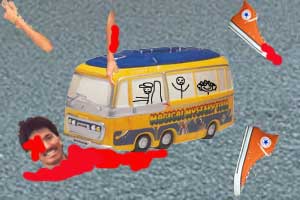 artist's rendering
Seems like there's more vehicular mahem to report:
According to the
BBC News website
, a man has been hit and killed by a double decker bus, moments after throwing a brick at its windscreen.
"It is thought John Rothwell, 40, of Broadway in Bredbury, Stockport, got off the bus in Heaton Chapel at about 1am on Tuesday.

Police said a brick from a nearby wall was thrown moments before the bus hit Mr Rothwell in Wellington Road North.

He suffered multiple injuries and died later at Stepping Hill Hospital in Stockport.

The 52-year-old bus driver, from Longsight, was treated for shock.

Wellington Road North was closed to traffic both ways while the collision was cleared.

Police say the driver and the bus passengers will be interviewed as part of a routine investigation.

Anyone who saw the incident is being asked to contact them."