Making Amber Waves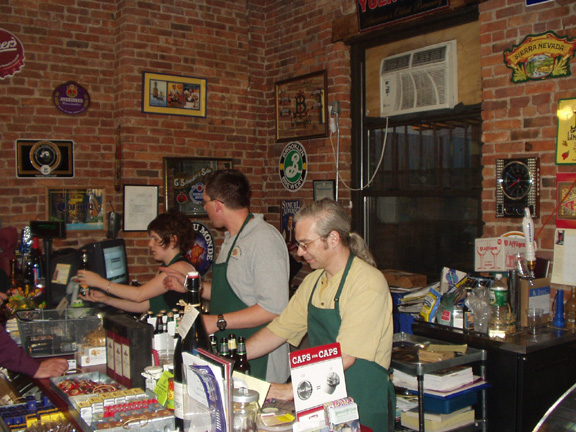 A Park Slope beer aficionado spreads the gospel of the brew.
Most of us were introduced to beer as a means to get drunk. Even with the emergence of high-quality microbrews, many still view the amber elixir as a mere social lubricant. Not so Richard Scholz, whose Park Slope beer and gourmet food store Bierkraft is a mainstay along Fifth Avenue's restaurant row. To Scholz, beer is not just a drink, it's a lifestyle.
"I've always been into good beer," says Scholz, a sturdy-looking man in his mid-50s. "Well, not always good—I worked at the Rheingold warehouse in New Jersey for a few summers in college." His duties, though, were somewhat less than glamorous. "There were only two or three guys in charge of the actual brewing. The rest of us just did the hundreds of the other things you need to do to keep thing in order—checking gauges, sweeping floors, setting traps."
After getting into home-brewing in the 1990s, the Brooklyn native and former mortgage broker decided to make his hobby a full-time vocation. Opened in November 2001, Bierkraft stocks almost 700 different varieties of beer from the far corners of the globe—everything from Ethiopian Bedele pilsner to Japan's Hitachino Red Rice Ale—arranged geographically in the refrigerated cases that line the store's long narrow walls. (Belgium is the best represented internationally, with more than 150 different beers in stock).
American microbrews—more than 200 of them—make up a sizeable chunk of Bierkraft's inventory and include such varieties as Louisiana's Abita Turbo Dog, He'brew, the Chosen Beer, and Portland, Oregon's Orange Blossom Cream Ale, made with honey, orange peel and flower essence. Scholz even carries the ultra-rare and ultra-potent Sam Adams Utopias MMII (24% alcohol by volume, as opposed to the more typical 4.75%), but that's more for bragging rights than anything else.
What really sets Bierkraft apart is how Scholz works to, as he explains it, "bring beer into the gourmet consciousness." His wife Daphne, a former specialty food buyer for Bloomingdales, stocks the shelves with a wide range of gourmet delicacies, including sweet potato gnocchi, artisanal chocolates by Eric Girerd, and white Boquerone anchovies from Spain. The cheese offerings, which include farmer's gouda and beer-bathed Hooligan cows' milk cheese, rival anything you'd find at Murray's or Fairway. "Originally, Rich's idea was to focus on beer and have maybe just a few snacks," says Mrs. Scholz from behind the deli counter. "But I said, 'If I'm going to support this, I want this to be a full service market.'" The idea was to elevate beer's profile; to make it an end unto itself. Judging from the crowded aisles, it's been a successful approach. "Beer is so versatile—much more so than wine. People ask me all the time which beer goes with what meat or what cheese," she explains.
With only his wife and a few knowledgeable assistants to run the busy emporium, Scholz has little time to himself, giving him a manner that's not so much gruff as it is terse. Even on a rainy Saturday morning, after all, there are always more cases to open, more pots to stir, shipments to sign and customers to advise. The one time he slows down is when he discusses the months leading up to Bierkraft's opening—when he left his job at Cantor Fitzgerald, the World Trade Center-based brokerage house that was devastated in the 9/11 attacks. "I left in July of 2001 after being there for more than fifteen years. If I had delayed my plans by just a few month—which my wife and I seriously considered—I probably wouldn't be here today."
With Bierkraft firmly entrenched in Park Slope and Williamsburg's Brooklyn Brewery gaining a natural reputation, one has to wonder what it is about the borough that has made it such a mecca for the sudsy libation. "Brooklyn has always had its place in the history of beer-making," says Scholz, citing the old Schaeffer and Rheingold plants. "It's on the water, so it made shipping easier, and many of the early German immigrants brought their beer-making traditions across the Atlantic."
Park Slope was a natural choice for the store's location. In addition to being the Scholzs' home turf, the neighborhood has seen a tremendous surge in upscale real estate and restaurants along Fifth Avenue. But gentrification can have its drawbacks. "There have been about a half-dozen or so competitors since we opened," Mr. Scholz says, citing nearby gourmet markets like Blue Apron and Fresh Fields, just two blocks away. "But they don't understand the business and they don't have the knowledge or experience. Everyone here can tell you about every bottle we sell."
Ask Mr. Scholz to name some of the store's most popular brands, though, and he comes up short. "It really runs the gamut—we have folks who come in and get the same thing every time and others who always try something new." Many customers are attracted by the fact that Bierkraft's brews are available as single bottles or six-packs, so they can afford to be adventurous. Others have attended the popular Tuesday night blind tastings, featuring a speaker followed by samplings of beers and complimentary cheeses. A charity microfest in September, with representatives from six microbrews pour out samples, drew over a hundred attendees.
Free samples and gourmet cheeses aside, the main reason beer connoisseurs flock to Bierkraft is Scholz's dedication. After a customer with a serious wheat allergy inquired about gluten-free beer, Scholz did some investigation and discovered Bard's Tale, an all-natural brew made with malted sorghum. He began stocking small shipments, which he said quickly flew off the shelves. "We'd order larger batches but the demand kept rising." When the company's distribution system fell apart, Scholz became the beer's main distributor in North America.
Of course, Bierkraft customers are every bit as loyal as the store's proprietor. One Sunday morning last year, when Scholz came to unlock the store, he was greeted by a carload of college students who had driven all the way from Montreal to see the store and buy some beer. "I didn't have the heart to tell them about the mail order business," says Scholz. "But I think for them it was more of a pilgrimage than a beer run."