Kosher Style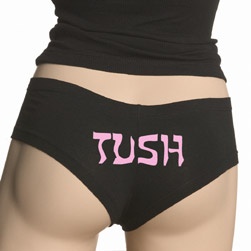 Jewish designers step out of the closet and onto the racks
The latest addition to the stretch of the West Village affectionately known as "Little England"—home to Anglo outposts Myers of Keswick, Lulu Guinness and Tea and Sympathy—is Showroom 64, a small, airy boutique on Greenwich Street that specializes in casual clothing for grown-ups and tots alike. Inside, London-born Holly Greenwald—who runs the six-month-old store—finishes tying a large lavender ribbon around a stack of three matte-silver gift boxes. "We do it the traditional English way—the customers point at what they want and we pull the items from the back," Greenwald said, curling the ribbon with the flat end of her scissors. "Then we put the items in a gift box, whether it's for them or someone else."
It may be run like a typical Oxford Street emporium and feature everything from Union Jack slippers to HRH ("Her Royal Highness") onesies, but some of Showroom 64's biggest sellers come from a decidedly different tradition. All along the store's left-hand wall are T-shirts and tanks, in sizes newborn to men's XL, emblazoned with Yiddish phrases like "Meshuggenah" (crazy), "Bubeleh" (sweetie) and "Shayna Punim" (pretty face). They're the handiwork of Rabbi's Daughters, one of the leading purveyors of a growing trend in Jewish-themed apparel. Forget about wearing your heart on your sleeve—today's style mavens, it seems, are putting their faith on their chest.
Daniella Zax started
Rabbi's Daughters
with her two sisters in 2003 (and, yes, their father is a Conservative rabbi). "[We] always wanted to work together and a clothing line seemed like a natural fit," Zax said from her home in Los Angeles. "Our mom speaks fluent Yiddish and we grew up hearing it, so it was just something that we were familiar with and that made us laugh."
Armed with nothing more than steely determination and a handful of sample shirts, Zax began cold-calling retailers in the L.A. area. "People were intrigued when I told them the name of our line, so that got my foot in the door," she said. "Everywhere I went was very responsive because they thought it was something new on the market." Zax said whether they were Jewish or not, the store owners she spoke to 'got' her humorous take on ethnic pride.
Today, Rabbi's Daughters apparel is carried by over 200 stores in both the U.S. and Europe and has appeared in style-savvy magazines like
Allure, People
and
Entertainment Weekly
. "Demi Moore was caught wearing a "Meshuggenah" shirt in
In Style
and that really helped us," said Zax. "You get the right celebrity wearing the right shirt and all of a sudden sales increase." "We can barely keep the shirts in stock," confirmed Showroom 64's Greenwald, who is herself Jewish. "People come in and gravitate right towards them."
Sarah Lefton's introduction to the Jewish T-shirt scene came almost by accident. While working at a Jewish day camp outside Yosemite National Park, the self-proclaimed punster commented on the similarity between "Yosemite" and "Yo Semite." "It was just so funny, I decided to make some shirts for some friends," Lefton said. "Next thing I know, people were asking me to make them some and telling me I should sell them." Today, "Yo Semite!" shirts are the flagship item from Lefton's company,
Jewish Fashion Conspiracy
. Other slogans include "Bris Me, I'm Jewish!" and "Jews for Jeter," a nod to Yankees shortstop Derek Jeter.
Lefton and Zax have made inroads with brick-and-mortar retailers, but like most 21st century trends, Jewish fashion's main form of transmission has been the Internet. Started by 28-year-old Brooklynite Sara Schwimmer in 2004,
ChosenCouture.com
has emerged as the ultimate online clearinghouse for hip, humorous apparel and gifts that celebrate Hebraic culture.
Raised in an observant family and working for a popular online retailer, Schwimmer was frustrated with the lack of attention paid to the Jewish demographic. "In December, all the stores are decked out in wreathes and they're selling Christmas ornaments and sweaters with reindeers and Santa on them," she said from the cramped Ft. Green apartment that doubles as her office. "We're lucky if there's a token Menorah in the window."
Merging her faith with her knowledge of e-commerce, Schwimmer launched ChosenCouture.com in March 2004. Now celebrating its first anniversary, the site has seen steady growth. (Though Schwimmer won't discuss actual sales figures, she said she recently added two fulltime employees.) It features everything from Kaballah-inspired charm bracelets to matzo-ball chew toys, but Schwimmer said it's the shirts, like the aforementioned "Meshuggenah" tee and her own line of "Schvitz" (sweat) tank tops, which are the hot-ticket items.
Mixing religion and fashion can be tricky business—as anyone who remembers the flak Madonna got for wearing crucifixes can attest to—and Schwimmer said she's careful to steer clear of slogans that could be deemed offensive. "Anything that has profanity, or that's overtly political or sexual, we just won't carry." In fact, the only criticism Schwimmer's received has been from zaftig (full-figured) women who complain the site doesn't accommodate their sizing. "And we're working on that," she said with a grin.
Wearing a "Challah Back" shirt might get you a wink and a nod in the East Village, but how does it play in small-town America? "We do come against people who said they can't wear our shirts in school," said Devora Bronstein, whose Tucson, Arizona-based
2 Jewish Cowgirls
sells tees bearing the company's name on ChosenCouture and their own site. "That's part of why we do this. Aside from having fun, there's a message of pride for Jews living in smaller communities. We get a lot of people saying 'I'm so thankful I found you. I had no idea there were other Jewish cowgirls.'" Bronstein said her typical customer is "something of a rebel," who embraces her Jewish heritage and the Western spirit of independence.
Of all the Jewish clothing companies on the market today, though,
Jew-Lo
—created by 28-year-old Julia Lowenstein—has the most overt agenda. "We grew up with the stereotypes of the Jewish American Princess and the overbearing Jewish mother and many of us still carry that around," the recluse Lowenstein explains on her website. "If J-Lo can go out there and say 'accept me as I am—a strong, proud Latina woman with curves,' then Jew-Lo can do the same thing for Jewish women."
Indeed, the current trend in openly Jewish T-shirts can be seen as the latest in a line of multicultural branding, following in the footsteps of "It's a Black Thing" shirts and "I Can't Even Think Straight" pins. "'I think we just tapped into the zeitgeist of what's 'in' with the young crowd," said Jon Steingart, whose label, Jewcy, made waves with their "Shalom Motherf—ker" tees. "It's cool to be an outsider now, and for centuries Jews were the ultimate outsiders." As examples of the "new Jew cool," he cited out-and-proud Members of the Tribe like Jon Stewart, Ben Stiller and Debra Messing—who has been seen wearing one of Rabbi's Daughters "Mammelah" (mama) shirts.
But the children of Abraham are not the only ones getting hip to kosher couture. "The 'Shiksa' [non-Jewish woman] tee is a big seller," said ChosenCouture's Schwimmer, adding that both Madonna and Kelly Osborne own one. "It used to be an insult, but now it's sort of funny and endearing." Based on feedback from the site, she estimates at least ten percent of her customers are non-Jews who may be in an interfaith relationship or who just appreciate Jewish culture. Even uber-WASP Katie Couric donned one of Rabbi's Daughters "You Had Me at Shalom" shirts when director Mel Brooks dropped by "The Today Show." "I think people just love Yiddish," explained Zax. "It's just a fun, expressive language that's really become part of American slang."
There are other factors contributing to the current vogue for "tribal tees," as Schwimmer calls them. One is the vibrant online T-shirt community emerging on sites like
Threadless.com
and
Busted Tees
. There is also a growing interest across the board in shirts that reflect a particular point of view, be it a political statement ("Impeach Bush") or pop culture reference ("Free Martha!"). And, since most of the current crop of Semitic designers celebrate Jewish and Yiddish
culture
, as opposed to explicit religiosity—it's easier for non-observant Jews to get on board.
The million-shekel question, though, is whether Jewish-themed tees are a passing fad or something, like the Chosen People themselves, that will endure. "There's always a need for bar mitzvah gifts and Chanukah presents, and that's really how we're positioned," said Schwimmer, adding that 70% of the products on her site are purchased as gifts. Zax said Rabbi's Daughter was originally aimed at a young urban market, but it has "really gone beyond that. The kids love it; the mothers love it; the grandmothers love it."
With an eye towards expanding its market base, Zax's company recently launched a line of Hebrew-letter handbags and make-up cases that's available in traditional Judaica stores as well as trendy urban boutiques. "We're definitely having our moment in the sun," said Zax, "and hopefully it's not just a moment."